---
Thread Type:

metric

&nbsp &nbsp &nbsp
Material:

TA2 titanium

&nbsp &nbsp &nbsp
Threading:

fully threaded

&nbsp &nbsp &nbsp
Fastener screw type:

cross countersunk head tapping screw

&nbsp &nbsp &nbsp
---
Advantages of Titanium Fasteners
        Titanium (Ti) is a highly corrosive element with properties that make it the perfect element to produce fasteners. These fasteners hold their own huge set of benefits and advantages.Some of the most appealing advantages of titanium fasteners include:
        These metal parts are typically maintenance free
        Titanium's oxide layer protects the fasteners from corrosion
        These parts are cost-efficient
        Titanium fasteners are lighter in weight than steel fasteners
        They are extremely strong, durable, and sturdy
        These components can withstand high temperatures
        These parts are biocompatible and non-toxic so it won't cause any harm to a human's or animal's body
        Titanium can be combined with other metals such as steel, aluminum, manganese, etc. to create an alloy and gain even more advantages
Thanks to these advantages, titanium fasteners are used in numerous different industries. Some specific industries that use this metal component include: aerospace, automotive, chemical, paper, pulp, architectural, consumer, marine, medical, and various other industries.

Chemical Composition %
| | | | | | | |
| --- | --- | --- | --- | --- | --- | --- |
| Ti | Sn | Fe | Cu | Si | C | Mn |
| 99.8 | 0.033 | 0.01 | 0.011 | 0.061 | 0.021 | 0.012 |
---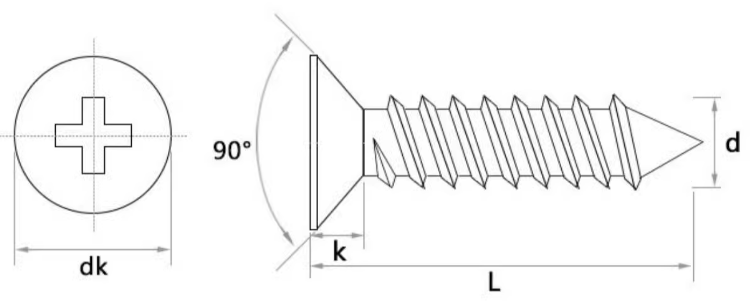 d
M1
M1.2
M1.4
M1.7
M2
M2.2
M2.6
M3
M3.5
M4
M4.2
M5
M6
M8
dk
1.75
1.82
2.5
3.27
3.7
3.98
4.2
5.3
6.5
7.2
7.6
8.7
11.8
14.1
k
0.65
0.7
0.8
1.13
1.21
1.3
1.6
2
2.5
2.6
2.7
3
4.75
5.2
degree
90°
---